St Maarten restaurant have the best St Martin food
---
Caribbean Creole Cuisine
The word 'creole' is used many ways. There are specific Creoles to areas. Some Caribbean islands have a creole that is Dutch mixed with West Indian- or British mixed with East and West Indian. Americans usually think of Creole as being South Louisiana and bayou style cooking. A predominant creole style in St Martin and St Maarten is a mix between French, Amerindian, and East Indian (from around India). This tends to be spicy and uses local ingredients just like West Indian food. Caribbean creole has elements of Latin America sometimes also. Caribbean creole food is adventurous to most foodies, and in this day and age gets quite eclectic. It's almost continental or east-west fusion at times. Just look at the mix of cultures involved. You might see dishes being termed Caribbean creole in the form of exotic mushroom black rice, entrées seasoned with saffron, or seafood drenched in caramelized grapefruit sauce. Many underestimate the East Indian influence in the Caribbean. You will find curry and Saffron used in a lot of recipes. Asian influence in general abounds on the island. Why not? Fresh fish is plentiful and the Indonesians have been here for more than 150 years. History has left a unique mix of cultures on St Martin/Sint Maarten giving a truly delectable and eclectic cuisine.

St Martin and St Maarten is considered to have the highest concentration of fine restaurants in the whole Caribbean. There are great restaurants on St Martin / Sint Maarten that exemplify the styles we have outlined. Some consider the Grand Case area on the western shore of the north French side of the island to be the culinary capital of the Caribbean. L'Arberge Gourmande is kind of a fine classic French St Maarten restaurant in the Grand Case area. It's housed in one of the oldest Creole houses on the island. Even though the food is not considered Creole, it mixes distinctly island ingredients: fresh Island Rock Fish and Saffron Soup, Asparagus Soup with Scallops, Sautéed Shrimp with Pineapple.
These items are solidly classic French but they utilize the Caribbean's natural bounty. They use product from island fisherman: Chilean Sea Bass, Dover Sole, Monk Fish, Tuna Steak, and Island Rock Fish. They also use vegetables and spices from various cultures on the island. In addition, they offer rack of lamb, veal, Filet Mignon, pork tenderloin, duck, Burgundian snails, and more.L'Arberge Gourmande is proud of an extensive list of fine wines from France. All of their Burgundy Red Wines are produced only from the Pinot Noir grape variety.
Also in the Grand Case area is Bistrot Caraibes which is also Classic French but with its own island twist. Enjoy their take on Foie Gras utilizing local produce- Sautéed Duck Liver with Mango and Pistachio, Sweet and Sour Mango Sauce served with a glass of Monbazillac. For an eastern oceanic influence there's the Tuna Special 4 ways: Sushi, Sautéed, Grilled and Sesame Roasted. Or try the Eggplant "Bavarous" with Island Crab and Basil Sauce. For desert consider the classic French Crème Brûlée or the Home-made Ice Cream Nougat with Raspberry Sauce and Local Fresh Fruit. All the dishes are artistically presented. Bistrot Caraibes has an extensive wine list featuring many fine French wines and some from the United States and Chile. Sol e Luna is a nicely decorated family-owned St Maarten restaurant in Mount Vernon on the eastern shore of the French side. The father is the cook. The mother is the manager and the daughter is the waitress. The restaurant is a renovated island house with a beautiful atmosphere overlooking Orient Bay. The cuisine could be termed Creole but it's hard to say. Let's just call it creatively imaginative. There are definitely elements of the island's bounty and historical culture we've been discussing: Sea Scallops and Jumbo Shrimp with Risotto and Seaweed; Lamb Shoulder cooked 7 hours with Cumin and Rosemary; Avocado, Crabmeat, Cucumber, and Wasabi Sauce Salad; and Carpaccio de Thon Rouge Façon "Thai" (yellow-fin tuna carpaccio with red curry, lime, olive oil, chives, seaweed, and soja sauce) to name a few. For dessert, Sol e Luna offers Banana Crunchy Cake with Chocolate Mousse and Caramelized Fruit, and Chocolate Soufflé with Homemade Ice Cream. The island comes alive with an after dinner drink. Let's try their concoction of passion fruit, ginger, vanilla, and plum liqueur- all grown and/or prepared on St Martin & St Maarten.Sol e Luna's main seating area is adorned with huge decorative jars of liqueurs they've prepared. This restaurant is a trip in itself. Modern Creole here has taken a delicious turn towards east-west fusion prepared in classic French tradition. St Martin/St Maarten is the only place on earth you'll find this particular celebration of food.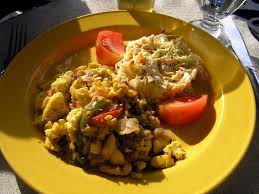 Marigot on the eastern shore, is the capital of the French collectivity of Saint Martin. Here great restaurants abound also. Mario's Bistro is on the waterfront just outside of Marigot, next to the Sandy Ground Bridge. They are considered contemporary French cuisine and are popular with both tourists and locals. (Always consider where the locals go.) Mario trained in Quebec City and became the youngest chef to take on a gourmet restaurant on St Martin & St Maarten. He has developed a cuisine that accommodates the Caribbean and its international clientèle. Mario infuses his food with more Caribbean flare. Strained Fish Soup, West Indian Style; Gazpacho with Artichoke Guacamole; Black Bean Soup Cuban Style; and Crab Crusted Mahi Mahi. He also displays the recurring theme of eastern flavors in Caribbean cuisine with the Warm Wohoo Sashimi with Wasabi Green Peas. The wine list here is more international with selections from France, Italy, Argentina, and quite a few from the United States.
On the Marina Port La Royale in Marigot, we highly recommend St Maarten restaurant Tropicana with their classic French and creative cuisine with relaxed waterside seating on the marina. The place has the feel of Parisian Café. They've been rated #1 out of 62 Marigot restaurants by TripAdvisor.com. Here you can get Beef Tartare- but only at lunch. Tropicana's Salad Niçoise with Medallions of Crusted Goat Cheese is another favorite. Enjoy French flare with a twist- Escargot in a Puff Pastry Shell. Try the Red Snapper with a Parmesan Crust. For desert tackle the Banana Vanilla Rum Cake. About 2 miles inland from Marigot, The Loterie Farm is difficult to categorize. It has a collection of fine restaurants- the Hidden Forest Café, Tree Lounge, the Bamboo Room, and L'eau Lounge are in beautiful natural settings. The Loterie Farm is predominantly a spectacular nature preserve with amenities. You can breathe in the rainforest air while marveling at the gorgeous scenery right from these open-air restaurants. You'll basically be dining al fresco. This expansive property has flora and fauna galore. If you don't get it anywhere else on the beaten path of the island, here you can really experience the wonderful creatures and beauty the island contains.
The southern Dutch side of the island, Sint Maarten, is known for a more international set of culinary styles. There are 12 casinos on the Dutch side and that's where many of the St Maarten restaurants are. Here you will find Dutch, French, Caribbean, West Indian, Indonesian, Asian, Mexican, Spanish, American, and food from India. Dawn Beach on the eastern shore of St Maarten has Big Fish, a restaurant with a relaxing atmosphere specializing in seafood. They offer specials depending what's caught that morning. Specialties include Mahi Mahi, Grouper, Coconut Shrimp, and Tuna. They have American staples like wraps and burgers also. Canoa on the Great House Marina near Coral Beach has a distinctly Caribbean feel and gets its name from their signature dish: a lengthwise sliced deep-fried plantain resembling a Caribbean canoe. It's topped off with ground beef, marinara, and melted mozzarella. Maybe call that Caribbean/Italian fusion.
The Maho/Cupecoy area is on an isthmus of land that is part of the enclosure around Sint Maarten's Simpson Bay Lagoon. It has some great St Maarten restaurant too. Temptation is on the Atlantis Casino property on Cupacoy. It is run by Chef Dino Jagtiani the first St Maarten born chef educated at the Culinary Institute of America. Anthony Bourdain dined there and was quoted as saying: "Keep doing what your doing!" Chef Dino uses elements of international and local cuisine. Here's an example of his genius: Sesame Crusted Seared #1 Grade Sashimi with Wasabi Mash Potatoes and Asian Vegetable Slaw. And his tweak on French onion soup- spiked with Heineken and Hennessy baked with Gruyere and Gouda cheeses. And here's some West Indian/international fusion: Lump Crab Beignets with Jalapeño
Aioli and Corn Salsa. Select steaks come with your choice of mashed potatoes, Yuca fries, French fries, Black Beans and Rice, or Fried Plantains.Temptation has found a tantalizing balance between international, cosmopolitan, and local aesthetic. Rare is their sister restaurant next door that is bookable for parties and events offering package deals for food, bar, and music.
Bamboo Bernie's in the Maho area (considered one of the premier party areas of the island). Bernies is self-described as "NY style sushi with a Caribbean twist." They also host the relaxing Buddha Lounge for you to enjoy exotic cocktails and listen to the DJ's eclectic atmospheric music. From the lounge, you can order from the late night menu of Tapas and Asian inspired appetizers. The main St Maarten restaurant is open for lunch and dinner. This is not your typical sushi restaurant. Their menu offers Japanese Tacos- 3 wontons filled with Crab & Yuzu Guacamole (Yuzu is a sour mandarin orange hybrid); Marinated Short Ribs & Shitake; and Aji Panca Salmon & Pickled Vegetables. Their Tuna Tartare comes with Currant, Green Olive, Toasted Almond & Lime-Soy Vinaigrette. Bamboo Bernie's also has Sushi of course. They have specialty rolls that add unusually refreshing ingredients: Vietnamese Style Pickles, Mango, and Tobiko (flying fish roe). This is a completely different version of east/west fusion- very interesting and tempting!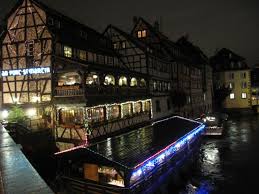 There are some nice restaurants in the Simpson Bay area of Sint Maarten. Izi Italian Pasta Lounge specializes in pasta but they offer a lot more. They have an exhilarating atmosphere enhancing the taste of over 400 possible selections for dinner. They feature fresh homemade pasta with delicious gravies. But it's new and different. You choose between 12 fresh pastas. Then you pick from 9 classical sauces or gravies: reds, whites, blues, and pinks. You can also choose a protein (chicken, beef, salmon, Mahi-Mahi, or jumbo shrimp). Then pick a gravy and one of 8 sides. Their motto is: "It's IZI." Top Carrot is also in the Simpson Bay area. This is probably the healthiest St Maarten restaurant on the island. They provide healthy lunches with smoothies, fresh juices, salads, and home-made dishes. They offer vegetarian alternatives and have a real juice and smoothie bar. The juicing will be done right in front of you. This is a great alternative after loving all that awesome rich French cooking all over the island. They also have heartier fare such as Courgette (zucchini) and Cauliflower Quiche. Or try their delicious Lentil Soup. You'll also find health conscious books on everything form nutrition to Yoga. They also have a gift shop selling tasteful jewelry and aromatic soaps.
The Taste Factory is a boulangerie (French bakery) with outstanding patisseries (pastries), French bread, and expresso coffees. Their patisseries utilize the French tradition of intense creativity and precision. Their boulangerie boasts the expertise of 3 generations of the Moulin family. The Taste Factory also offers more substantial meals: Brown Crepes with Ham, Swiss & Egg; Prosciutto & Goat Cheese & Egg; Smoked Salmon, Egg & Mozzarella; Trio of Smoked Fish with Tuna, Salmon, Marlin, Lemon Chive, Cream Toasts & Green Salad; and Beef Carpaccio. The Taste Factory is a perfect place for breakfast or lunch.
You can always learn local recipes and cook them yourself. Le Grande Marche is the biggest supermarket chain on the island. They have stores in the Little Bay area, Cupecoy, Cole Bay, and Bush Road. Le Grande Marche has a wide variety of ingredients from the Americas, Europe, the Middle-East, and Asia needed to create Caribbean recipes and other island specialties. Or one day, you might just feel like cooking something you're used to. Local produce as well as products flown in from around the world are sold here to satisfy the island's international clientele. You can also buy fresh fish from local fisherman just coming in from the catch. There are outdoor fresh fish markets at Simpson Bay and on the French side of the island. The quality and value is amazing. Another option is to go to the ever-present local food stands called Lolo's. These stands are often next to the beach at Grand Case. You can choose a fresh fish and have them grill and prepare it right in front of you. They also have all kinds of local specialties. It's low-key. There's usually picnic table seating. The price is right and the quality is usually great.