St Martin and St Maarten nightclubs to Listen, Dance, Party, or Just Relax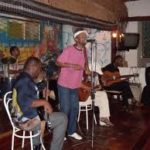 Both sides of the island have music- whether from live artists or DJ's. The French side is more intimate. The Dutch side has bigger party scenes and large casinos. (Casinos are not legal on the French side.) Sint Maarten, the Dutch side of the island, has The Red Piano bar and restaurant in the heart of the Simpson Bay resort area. It's behind Hollywood Casino and next to Bon Appetite restaurant. This venue is centered around its red piano on which you might find reveling guests dancing. The house band, 'Church On Monday, plays blues, rock, R&B, and pop. The club also hosts a rotating roster of local and international artists.
Soprano's Piano Bar and restaurant is in the Maho area near Phillipsburg. They provide $10 lunch specials, Italian entrées, pizza, and various live bands. There's usually no cover charge. Happy Hour from 5-7 sports half priced drinks.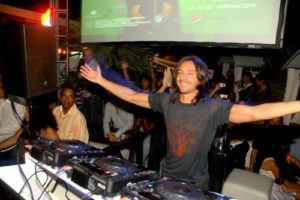 Maho is a central party spot of the island where you'll also find the club Tantra which hosts the Opium Room- an exclusive area serving rare spirits, vintage wines, and a humidor. The club features European, international, and local house DJ's. Their ladies night boasts $2 drinks for ladies. Tantra serves 2 for 1 drinks on Saturdays. Recently Singer / Rapper Drake filmed his latest music video here.
Cheri's Cafe, also in the heart of Maho, is a favorite for locals and tourists alike- a place to catch some true local flavor. You can catch assorted live music live music 6 nights a week. Sweet Chocolate, the house band, mixes, music and theatrical comedy while performing as Louie Armstrong, Tina Turner, and the outrageous LuLu in drag. Cheri's features an open air pavilion where you might find rock stars, high rollers, locals, tourists, and beach bums alike- flirting and having fun. Their affordable menu has steaks, burgers, fresh seafood, pasta, BBQ, conch soup, and lobster bisque.
Bliss used to be a a popular outdoor beach night club with live music events, however it has closed its door.
Tantra Nightclub & Sanctuary in the heart of Maho village: Submerse yourself in a sanctuary of sound and energy. With its global inspirations stimulating your every desire of taste, comfort, and harmony, succumb to Tantra!
Near the Princess Julianna International Airport Sunset Bar and Grillsports unique goofy fun. This gigantic beach bar is so close to the airport's runway that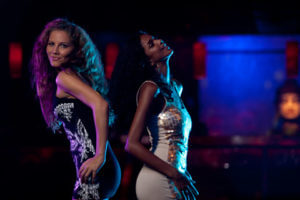 revelers often purposely allow themselves to be blown over by jet blasts from departing super jets. They carry on in fits of laughter as they're sent sprawling into the white sand. This place is so close to the airport, travelers come down for affordable drinks during flight delays. The establishment announces arriving planes so guests can watch as the planes pass overhead closer than they've ever seen before in their lives. Sounds dumb, but it's great fun. Speaking of stupid fun: you can sponsor a hermit crab in Sunset's beach races. Sunset Bar has the most popular ladies night on the island- ladies drink FREE! This place has constant live music from local bands- even during the day. The venue also features Caribbean and international artists and DJ's.
Beach bar restaurant Waikiki is located in the heart of Orient Bay, the beach of Waikiki will provide the tranquility of a calm sea and a white sandy beach. Good food, great drinks and the perfect Beach Bar atmosphere! Enjoy the pleasures of beach, their cocktails and of course their French gastronomy. A shop, a massage area, a watersport center, everything is at your disposal to make your stay a memorable one.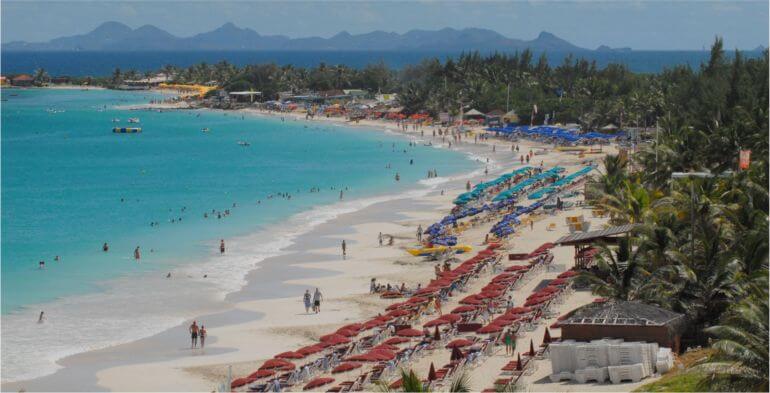 If you're looking for a sports bar, Pineapple Pete's shows world-wide sporting events on 4 giant screens and 15 flatscreen TV's. The bar serves pizza through late night and has a pool room with darts, arcades, and more. Pineapple Pete's side-kick, The Alley Ultra Loungeprovides late night partying, great music, and huge sofas to relax on.