SXM Airport Airfare Travel Deals And Information
---
Looking for SXM Airport airfare deals? You can fly to one of the most exiting airports in the world, Princess Juliana International Airport, St Maarten – also known as SXM – from various International airports. The landing at St Maarten is world famous and has been covered extensively on YouTube and pictures about planes approaching the runway at SXM have been posted all over the internet.
SXM became a major hub in the Caribbean especially after the completion of the new terminal. St Maarten is the second largest hub servicing the majority of the Caribbean islands.
Most major airlines are servicing SXM and to name a few airlines : American Airlines, US Airways, United Airlines, Continental, Delta Airlines, Air Transat, Air Canada, JetBlue, Spirit, KLM, Copa, Air France and Corsair.
SXM is being served directly from the following international destinations :
Atlanta, Charlotte, Chicago, Miami, Fort Lauderdale, New York, Newark, Philadelphia, Washington, Panama, San Juan, Amsterdam, Paris, Montreal, Caracas, Toronto and various Caribbean Island. St Maarten also functions as a major hub for the private jet industry.
As far as St Maarten St Martin airfare travel deals and purchasing airline tickets we suggest visiting sites like Kayak and Airfarewatchdog where you can set up alerts when airfare are dropping to a certain threshold set by you. Prices are fluctuate heavily, because of oil prices and demand, so we strongly suggest to track airfares several months before you go. Needless to say that airfares are always high around the holidays and during the high season, which runs from mid December until mid April.
www.sxmairport.com is the official website of Princess Juliana International Airport, Sint Maarten.
Princess Juliana Airport – St.Maarten (Airport Code : SXM)
Runway Length : 7054 ft. – Runway Elevation : 13 ft.
City : Philipsburg, St. Maarten – Country : Netherlands Antilles – Country Abbr. : AN
Longitude : 63° 6′ 32″ W – Latitude : 18° 2′ 27″ N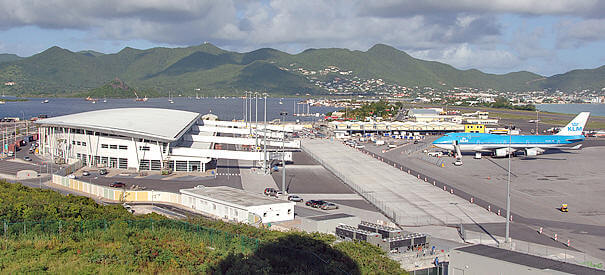 → www.tsa.gov is the Transport Security Administration official website. The TSA is the USA's transportation security agency.
→ www.catsa.gc.ca is the Canadian Air Transport Security Authority official website. The CATSA is the Canada's transportation security agency.
→ www.seatguru.com for airline seat maps, seat advice and flight information.
Travel Guard
---

St Maarten St Martin Flight and Stats
---