Caribbean Food Festival, St Maarten
---
The 2nd Annual Caribbean Food Festival which is themed  "Wave yuh flag, taste di flava"  is being held on Sunday, November 2, at 11:00am-8:00pm. The Food Fest will take place next to Taste Factory with plenty of parking in the Kimsha parking lot.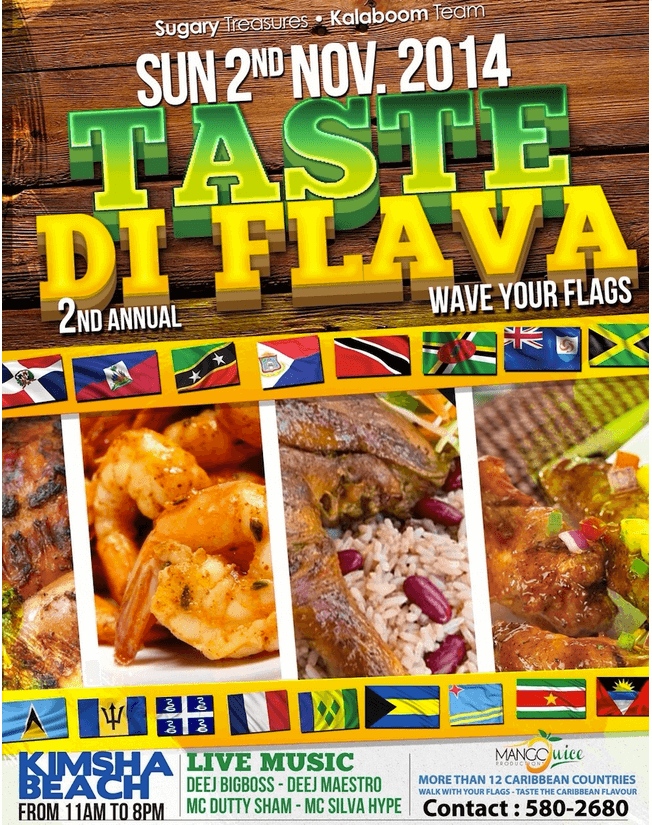 The event which will test your  palates and tantalize your appetite is being organized to discover the Caribbean food we all known in St. Maarten St. Martin and to be recognized as the gourmet capital of the Caribbean and in preparation to celebrate St. Maarten Day on November 11.
The Caribbean Food Fest is also intended to promote the multicultural nationalities of the Caribbean residing here in the French and Dutch isle of St. Maarten/St. Martin.
The  Caribbean Food Fest features fourteen food vendors from several Caribbean islands selling cuisine from their respective destinations: like Haiti, Dominica, French St. Martin, Dutch St. Maarten, Trinidad and Tobago, Guadeloupe, Guyana, Jamaica, St. Kitts and St. Lucia.
DJ Big Boss and DJ Maestro from Kalaboom and DJ Fabulous from Big and Serious Sound will be attending and all hosted by MC Dutty Sham and Silva Hype.
Entrance is free, thanks to sponsors of the event
By Sonja van der Drift
Related Posts
Pre-Black Friday Sale in St Maarten Black Friday vacation villa rental special…

St Maarten Porto Cupecoy Porto Cupecoy appears to be intact Porto Cupecoy…

St Maarten tourisme flourish again ? Tourism Recovery in St Maarten The…