St Maarten island and SXM airport updates
---
By Sonja van der Drift
---
General update:
AIRPORTS
PRINCESS JULIANA (SXM) & GRAND CASE (SFG) are both operational since October 2017.
Arriving and departing from the small Grand Case airport (only for flights between the French Caribbean islands) is the same experience as before, the airport is fully functional. Unfortunately, the same cannot be said for the international airport on the Dutch side (SXM). The airport is undergoing repairs and a temporary air-conditioned tented pavilion has been provided for the departures from SXM. The same will soon be true for arrivals to SXM. The SXM airport will only be fully operational by March 2019. It seems the temporary tents are scheduled to be used for the remainder of 2018.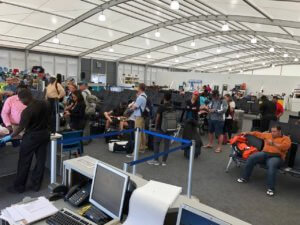 Flights to SXM are also limited at this time. Flights are only added to SXM based on the number of available hotel rooms. While hotels are getting ready, most will not be ready before Oct/Nov 2018, thereby slowing down the chance of having more flights return to SXM before the next high season. That said, SXMstrong.com is getting regular updates of the flights being added to SXM and you can find those updates here. In the meantime, we've outlined the flights we know will be operational come April 1st.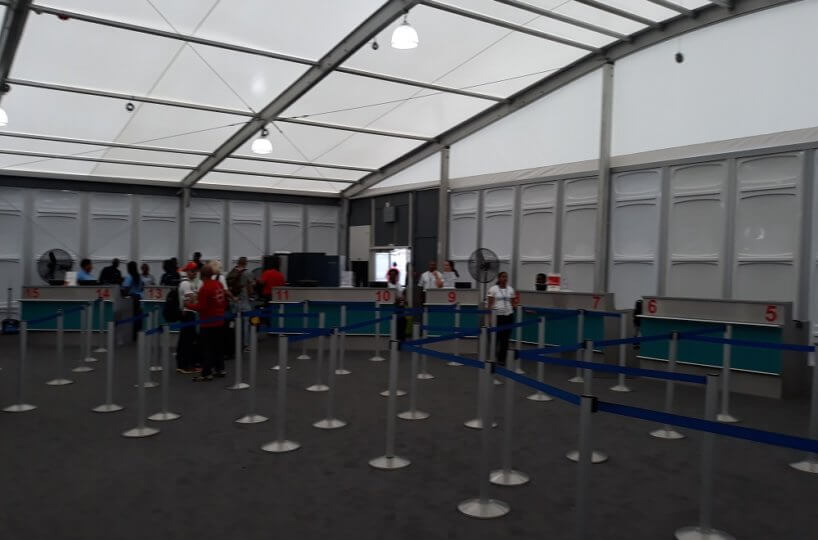 As of today:
From NEW YORK (JFK) :
Jet Blue with daily service.
From MIAMI (MIA) :
American Airlines with daily service.
From ATLANTA (ATL) :
Delta with service Tuesday, Wednesday, Friday, Saturday and Sunday.
From PARIS – ORLY (ORL) :
Air Caraibes with service Saturday.
From AMSTERDAM (AMS) :
KLM (return through Curacao) with service periodically in March, April, May & June. Check KLM website.
Added as of April 1st:
From TORONTO (YYZ) :
WestJet with service Sunday (starting April 29th).
From NEWARK (EWR) :
United Airlines with service April 14-15, April 21-22 and every Saturday starting April 28th until June 30th.
From PARIS (CDG) :
Air France with service periodically in April, May & June. Check Air France website.
Added as of June 2018:
From WASHINGTON, DC (IDA) :
United Airlines with service Saturday (starting June 9th).
Added as of August, 2018:
From PHILADELPHIA (PHL) :
American Airlines with service Saturday and Sunday (starting August 25th).
From CHARLOTTE (CLT) :
American Airlines with service Thursday, Friday, Saturday and Sunday (starting August 23rd).
NOTE: All schedules subject to change and cancellation.
FERRIES
Ferries are operational to St-Barts & Anguilla from St. Martin.
St-Barts :
Voyager Ferry from Marigot
Their service is sporadic so we encourage you to visit their website for further information.
Great Bay Express from Philipsburg
There service is offered Monday through Friday with the following schedule:
St. Maarten/St.Barts: 7:30am – 5:30pm
St. Barts/St. Maarten: 8:30am – 6:30pm
For weekend the weekend schedule, please see their website.
Anguilla :
Public Ferry from Marigot
St. Martin/Anguilla : From 8.30 am to 5.30 pm (every hour)
Anguilla/St. Martin : From 7.30 am to 4.45 pm (every hour)
Link & Funtime Charter Ferries from Simpson Bridge
Link Ferry:
St. Maarten/Anguilla : 8.45 am – 11.10 am – 1.45 pm – 3.30 pm – 5.15 pm
Anguilla/St. Maarten : 8.00 am – 10.30 am – 12.15 pm – 2.30 pm – 4.30 pm
Funtime Charters:
St. Maarten/Anguilla : 9.00 am – 12.30 pm – 4.00 pm – 5.00 pm – 5.30 pm
Anguilla/St. Maarten : 11.15 am – 1.30 pm – 3.30 pm – 4.30 pm
NOTE: All schedules subject to change and cancellation.
French side – Terres Basses update:
UTILITIES
Electricity
Electricity has been restored to all our properties. The electrical work done in the Terres Basses to quickly restore power was done as a temporary measure. We are still waiting for EDF (the power company) to return to finalize their work.
Water
Water supply is good and we have had plenty of rain so the cisterns are full. As always, we remind guests that we do not encourage them to drink the tap water, just as a precaution.
Satellite & Internet
Satellite will be restored in the properties we launch. Same can be said for Internet; however, we have had to switch service providers and the service may not be as reliable as pre-Irma. They are digging fiber lines in the Terres Basses so slowly over the next 8 months we will be making the move to fiber optics which means the internet service will be very reliable and fast. Until then, we will have to rely on the service currently provided which runs via a Satellite system.
Landline Telephones
Landlines are down in the Terres Basses unless the villa is connected already to fiber and we've been able to install a Voice Over IP (VOIP) phone. 0The IP means that the phone is connected to the IP address of the internet router, thereby service is via internet. Until this feature is offered in all our villas, we will be providing clients mobile phones where they can make local calls within St-Martin. For long distance calls, clients will be required to use the internet connection to make calls with their personal mobile devices using services like Facetime, WhatsApp or Viber.
GENERAL ISLAND SAFETY
Roads & Street Lights
All roads have been cleared and there are street lights on 80% of the islands. Areas where street lights have not be restored are Nettle Baie, Grand Case, Orient Bay, Anse Marcel and Cul de Sac. As before, the roads in Terres Basses are mainly without street lights and some of the roads have yet to be repaved. There is no planned improvement for these items with the Terres Basses homeowners association and will likely be addressed in next year's meeting only
Police Presence & Terres Basses Security
There are more Gendarmes (French Police) on the roads since Irma therefore we find there is next to no crime on the island.
The main gate for the Terres Basses has been operational since 2-day after Irma and it is guarded 24-hours a day, like before. Same for the private villas in the Baie Rouge community. The gate at La Samanna to enter Baie Longue is now permanently closed to road traffic. The gate for Anse aux Acajoux is also operational which means you can only access these properties with a private code. Same for the gates at Mont Rouge and the Baie Rouge Public Beach; however, this is only relevant at night time, like before.
Beaches
All beaches are open to the public and I'd say they are all 99% clean. We still encourage clients to watch where they walk on the beach in case there may be garbage but the same could be said from before Irma too. Beach bars & restaurants are limited.
i strongly encourage you to use the SXMstrong website for updates. It is a wealth of information has regular updates about progress being made on both the French & Dutch sides.
#VisitTheFriendlyIslandofStMaarten #stmaarten #saintmartin #sintmaarten #stmartin #sxm #blueoceanvillas #caribbean
Related Posts
St Maarten Tourisme Recovery Tourism Recovery Several months after Hurricane Irma, St.…

2018 St Maarten Festivals schedule St. Maarten festivals News Determined to rebuild…

St Maarten 2016 Heineken Regatta Racing in the Tropical sun with crystal…