Hurricane Irma and St Maarten News
---
---
There will be two locations available for the public to buy petrol for vehicles. Tackling Gas Station is scheduled to be opened at 10:00am, but that time remains tentative, as they are currently awaiting the delivery of their fuel and an escort from the police for the trucks.
The second location is in Dutch Quarter at Delta Petrol from 9:00am to 12:00pm. Delta Petrol is only filling persons with Jeri cans.
The Petrol Plus location on Bush Road is also open to the public, but is only accepting Jeri cans.
Petrol Plus and Tackling gas request that the public walk with exact change of $20 USD or Nafls 36.
Dutch Quarter residents received water delivery Wednesday afternoon via a truck working with GEBE. The truck made its way through the Union Farm neighbourhood and the workers patiently helped to fill bottles, buckets and jugs for the appreciative community.
Several supermarkets around the island also quietly opened to sell items to customers. As there were crowds of customers at most of the supermarkets that opened their doors, most of the supermarkets allowed small groups of customers to enter at a time to do their shopping.
Royal Caribbean Cruise Lines Majesty of the Seas cruise ship is expected to arrive on Friday to offer a humanitarian mission aimed at evacuating from St. Maarten American citizens or those with Visa Waiver/ESTA entry requirements, allowing the person to enter the U.S. territory legally.
Persons interested in evacuating and meeting the criteria should go to the St. Maarten Festival Village on Pond Island to register on Friday. Registration starts at 7:00am until 3:00pm.
Dutch Ministry of Defense is sending a very large vessel, the Joint Logistic Support Ship His Majesty Karel Doorman to St. Maarten. The ship will mainly be deployed for sea transport of materials and relief supplies. The ship will set sail for St. Maarten on September 20 and will arrive more or less 11 days later.
Dutch King visits St. Maarten
King Willem-Alexander arrived on Sint Maarten on Monday afternoon, local time. They landed on a battered Princess Juliana International Airport, where they were immediately faced with the devastation Hurricane Irma left in its wake.
The Dutch King examined the damages to the airport before making a trip around the island to see the devastation left by Hurricane Irma with their own eyes. The King spoke with emergency workers, police and military personnel and also had meetings with Governor Eugene Holiday, Prime Minister William Marlin and the Justice Minister on the island. They visited the local hospital and were informed about the situation of the port and the airport – both crucial for the provision of emergency supplies – as well as the problems with water supply.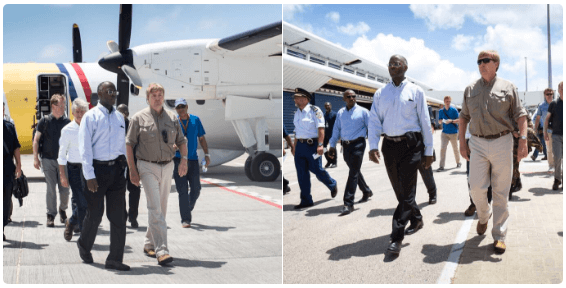 King Willem-Alexander and Plasterk spent the night on Sint Maarten. On Tuesday they will travel to the islands of Saba and Sint Eustatius, which were also hit by Hurricane Irma, though sustained less damage than Sint Maarten.
Related Posts
St Maarten News Wednesday Dutch State Secretary of Kingdom Relations Raymond Knops…

Sunset Beach Bar St Maarten reopens after Hurricane Irma Sunset Beach bar…

GoFundMe - Hurricane relief fund St Maarten St Maarten Hurricane Relief Fund…